about the metro club...
breaking news:
Metro Club will close on 20th January 2009.

The Metro is a small basement venue on Oxford Street that hosts a great line-up of shows and clubs almost every night of the week, the central location making it one of the places to catch up-and-coming bands. The Metro Club is a Blow Up presentation.

history:
Blow Up took over the Metro in November 2001, before which it was known primarily for hosting clubs, not as a live venue. (The venue was originally called Oxfords years ago, not Plastic People which was a few doors down.) In January 2003, in a space of just over a year, the Metro was awarded Time Out Venue of the Year after playing host to some of the hottest shows in London in 2002. It's now one of the venues of choice for discerning gig goers too, who can see some of the most exciting gigs in town, making it a great place to see bands just before they explode. Gig highlights have included to name a few: Yeah Yeah Yeahs headline debut UK gig, The Kills, Kings Of Leon and more... Most shows are followed by clubs including long-running nights such Blow Up (Sat), Bedrock (Fri) and I Bet You Look Good On The Dancefloor (Wed), and newer clubs such as Electric Feel (Thurs). Club highlights so far have included: Courtney Love hitting the decks at Alan McGee's Death Disco, Jack and Meg White turning up to our very unofficial "We Love The White Stripes!" club in November 2001, an impromptu mid-club set from the Libertines, aftershows for Ladytron, and last year, Dion's first UK show in 17 years, to just to name a few... Check out past acts and press to see what you might have missed!

The decor is low-key to say the least, meaning our reputation is built on the shows and clubs alone, so there's no trendy minimalism here! - all making The Metro your subterranean rock 'n' roll venue of choice bang in the centre of town!

blow up:
Blow Up is involved in long running live and club promotions, including the legendary Blow Up club (15th years old this year) and the label Blow Up Records. www.blowup.co.uk

bookings:
All shows are booked in-house by Blow Up or in conjuction with various promoters ranging from Artrocker, Careless Talk, Dead Or Alive, Fandango, to the major concert promoters Clearchannel, Mean Fiddler, Metropolis and SJM. Click here for more info.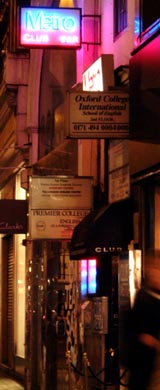 coming soon: